Meta (Facebook) Announces Improvements to Personalized Support for Small Businesses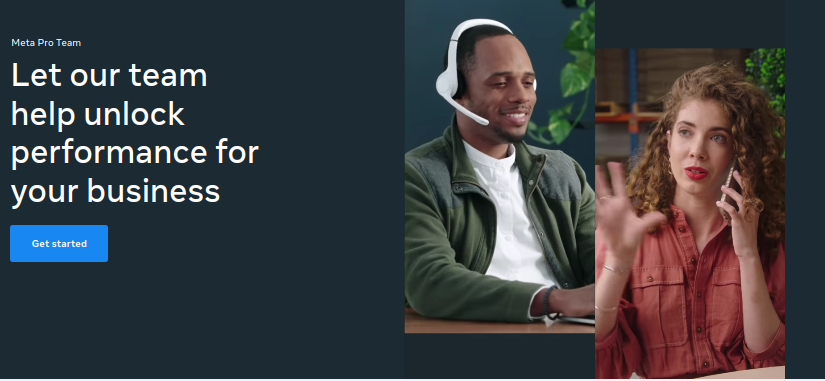 Image via Meta
Facebook parent company Meta announced new updates it has made to its personalized support offering for small businesses. The Meta Pro Team is an expansion of an existing program, previously known as Facebook Marketing Experts. Along with the name change, the company is expanding its live support to provide additional customized guidance based on a particular business's needs.
"Our Meta Pro Team makes it easy and accessible for businesses at any digital advertising level to get help on demand," Meta said in the announcement. "Whether thinking through how to optimize ads, solving account access issues, or unlocking billing, our team of pros is here to help."
"The Meta Pro Team offers support to help small businesses grow their online advertising impact, from top-of-the-marketing-funnel goals down to direct response objectives," it added. "Our pros help ensure you have strategic guidance to reach and connect with your customers in moments that matter most, no matter whether you're a novice advertiser or have been advertising for many years."
There are three different support teams to help businesses with different categories of issues, and a fourth on the way. Currently, the available teams include: Meta Marketing Pro, Meta Technical Pro, and Meta Support Pro. The company says Meta Creator Pro will be available at a later date.
The Meta Marketing Pro team exists to provide support aimed at helping businesses maximize their results across Meta's different technologies. Support is live and tailored to the specific business. The team will review your account and recommend ways to optimize your Facebook and Instagram ads. They can also walk you through new marketing strategies.
The Technical Pro team is geared toward helping businesses install or optimize Pixel, Product Catalog, Conversions API, and measurement. These are the company's ad technology offerings that businesses may need a hand to configure properly. As Meta notes, when one of these products is not installed correctly, it can negatively impact your advertising campaign performance.
The Support Pro team is there to help with troubleshooting policy, billing, and ad restriction issues that may arise.
Meta did not give further details about the coming Creator Pro team, but it did note that the program will work with agencies and digital marketing consultants, adding that it is a great way for such folks to stay up-to-date on the latest features.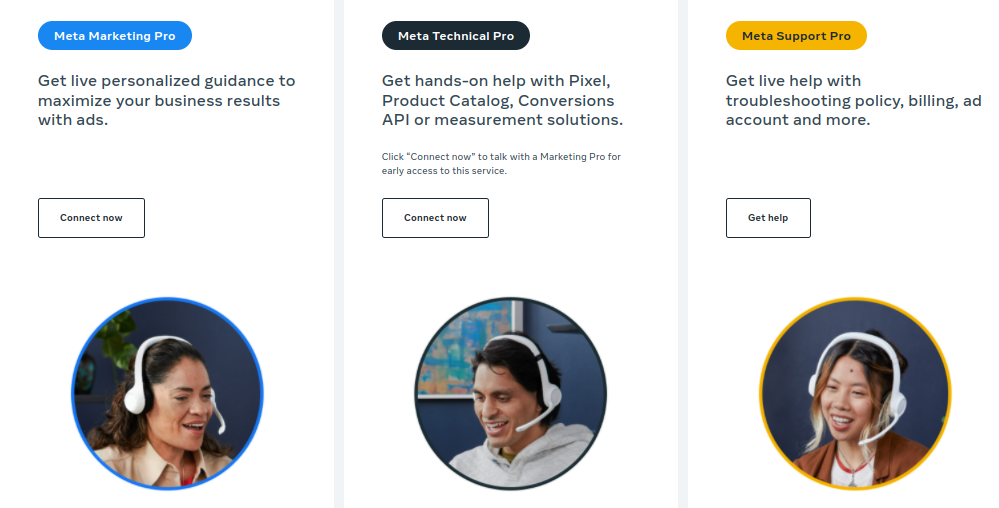 Image via Meta
Consultations with members of the Meta Pro Team are free to eligible businesses and do not require any commitment from the business. The only thing a business would have to pay for would be any Facebook or Instagram ad campaigns the business decides to run.
Currently, the Meta Pro Team program is not offered to all advertisers, though Meta says it is working to expand it in the future. Businesses can learn if they are eligible by going to the Meta Pro Team website. Meta says it will also reach out to businesses it believes are a good fit.
Read other business articles
More from the Business Resource Center